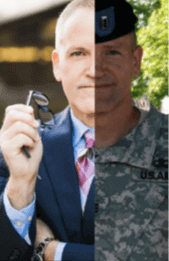 MEET BO BRABO: LEADERSHIP DRIVEN SPEAKER,
AUTHOR
& PODCAST Co-Host of "
The Bo & Luke Show
"
Throughout his career, Robert "Bo" Brabo has always focused on the people, helping them tackle their challenges as if they were his own. Since retiring from the U.S. Army as the Chief of HR Operations with the White House Communications Agency and as a Presidential Communications Officer for President George W. Bush and President Barack Obama, Bo has served in several executive positions, including most recently as Vice President of Human Resources at the National Spine and Pain Centers and as Principal at HAIL Ventures and Consulting.
Bo previously co-founded a consulting agency that assisted government contractors in HR strategies and contract proposal efforts.
Bo Brabo is a sought-after professional speaker, leadership consultant, and values-based HR leader. He received his MBA from the University of Michigan's Ross School of Business, is the co-host of T
he Bo & Luke Show podcast
, and is committed to lifelong learning and sharing, to make us all stronger. His insights have appeared in professional journals and in the 2018 HR anthology,
You@Work: Unlocking Human Potential in the Workplace
.